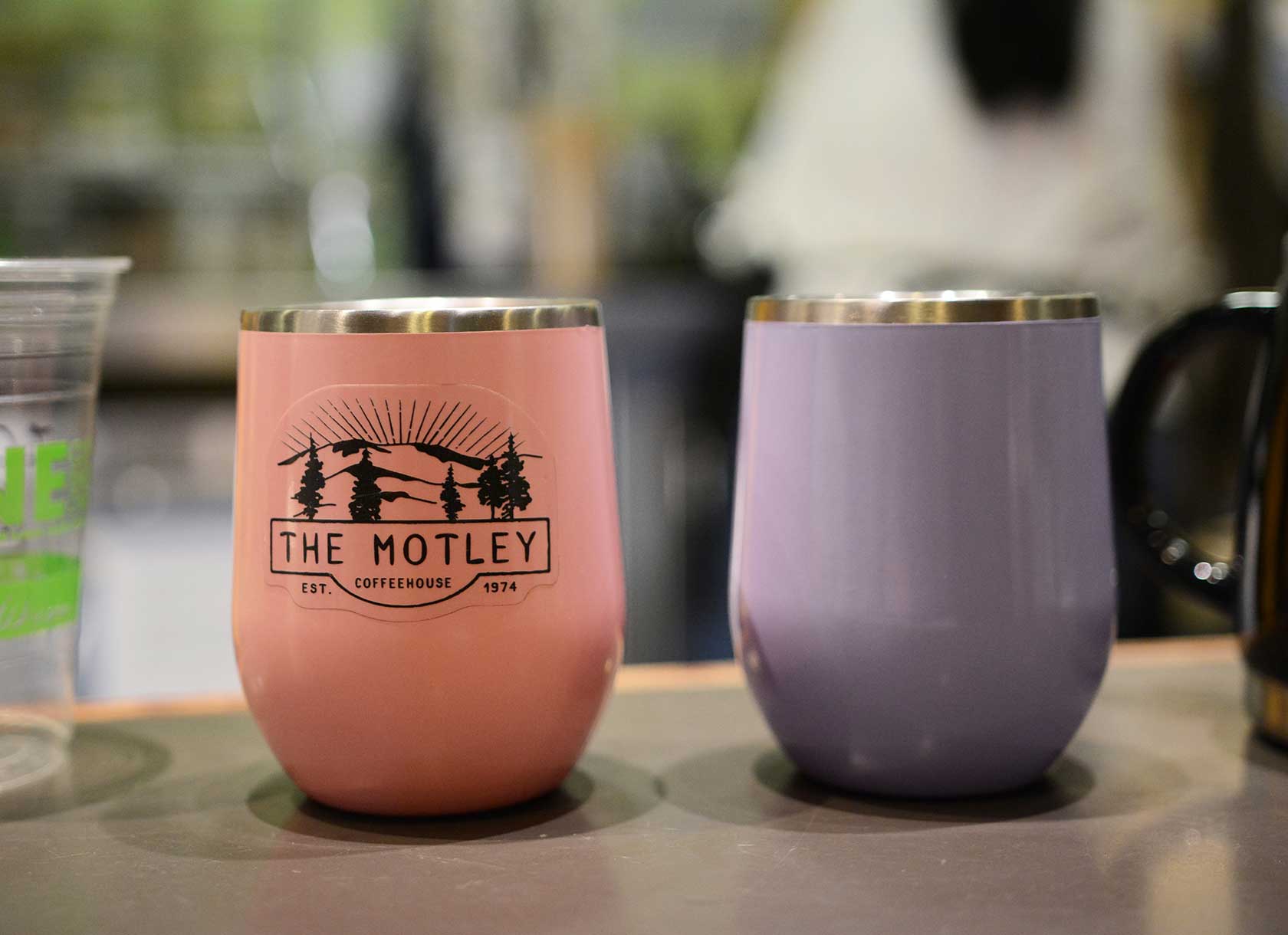 For more than 45 years, the Motley to the View Coffeehouse—more commonly and affectionately known as "the Motley"—has provided a welcoming space for members of The Claremont Colleges community to study, socialize, and host events. Often considered the heart of the Scripps College campus, the Motley's cozy interior sports comfortable chairs and tables, a stage for open-mic nights and other performances, and a bounty of intersectional feminist artwork on the walls. There's also plenty of outdoor seating for customers to enjoy the balmy Southern California weather while sipping baristas' inventive signature drinks, such as the Matcha Cha Cha.
Most uniquely, however, the Motley is managed and operated entirely by Scripps students, providing its staff with invaluable leadership and business experience. The Motley employs approximately 60 baristas and managers each semester; applications for interested employees are available at the beginning of the fall and spring semesters.
"Students working at the Motley develop a range of in-demand soft skills, which are important for their overall career development," says Ashley Valdez, director of Career Planning & Resources. "These soft skills—such as leadership, customer service, teamwork, and effective communication—help set students up for success, as they are highly transferrable to whatever work they decide to pursue after Scripps."
For Students, by Students
The Motley was founded in 1974, at a time when Scripps had no central student gathering place. Students lived, dined, and socialized in their residence halls, which were overseen by housemothers. In some instances, students lived in the same hall for all four years, only engaging with the broader Scripps community during classes. Daryl G. Smith, senior research fellow and professor emerita of education and psychology at Claremont Graduate University, began her tenure as dean of students at Scripps the same year in which the Motley was founded. She recalls that the absence of a central space presented logistical as well as social challenges: For a brief period, whenever the Dean of Students Office needed to provide information to students, they pushed an ice cream cart with announcements around the campus.
The need for a gathering place was "really important for the health of the community," Smith explains. The mid-1970s were a time of change for Scripps, as the College was moving toward increased student leadership in the sphere of student life, transitioning from housemother oversight of residence halls to what was then known as the residential advisor program. Scripps' tradition of afternoon tea was likewise seen as an "old-fashioned" way of gathering, Smith says, while the idea of a coffeehouse held more contemporary appeal.
Although she helped support the Motley's creation in her role as dean of students, Smith emphasizes that the coffeehouse has been a student-led establishment from its inception.
"They really took great ownership and responsibility," she recalls, adding that the students' vision of what they wanted the Motley to be shaped every aspect of the coffeehouse, from its name to the artwork on its walls. "It was fabulous and very important because it became the place where students could gather—and important enough that it has been sustained to this day."
Since its founding, the Motley has moved from its original site in Balch Hall to the basement of what is now the Malott Commons, and, in 2000, to its current home in Seal Court. No matter its location, the Motley has always been a place for both coffee and community.
"It was fun to go in the evenings with friends and hear bands perform, and it was at the Motley where I had my first caffè mocha," says Jennifer Martinez Wormser '95, director and Sally Preston Swan Librarian for the Ella Strong Denison Library. Although Martinez Wormser was employed at the library as a student, her first-year roommate, Nara Boone '97, worked at the Motley, which at that time was housed in its Malott basement location and known as "the Motley Underground." Adds Martinez Wormser: "When I think of the Motley, I think of Nara and all the other student staff I knew there whose smiles lit up the place."
Motley With a Mission
Through the years, the Motley has upheld its mission to "to provide a center for intersectional feminist dialogues, highlight local vendors and sustainable global supply chains, and support on-campus organizations through community events and sponsorships." Over the last decade, managers have increased their focus on social justice and climate change issues. Many of the Motley's products are certified organic and fair trade, sourced from small, local, and family-owned businesses and organizations. In 2009, Motley managers introduced an initiative that provides customers with a dollar discount on drink purchases when they opt for a reusable mug—either bringing their own travel cup or using one of the Motley's many "for here" mug options. As of 2016, managers estimated that this practice has reduced waste by approximately 6,600 pounds each year, based on the number of to-go cups that the Motley purchases annually.
More recently, the Motley has dealt with adapting to COVID-19 pandemic-related challenges. After closing for two years, the coffeeshop reopened for the Scripps community in April 2022, with health and safety protocols firmly in place. Although its location and business practices have shifted during its nearly half-century of existence, the Motley remains an essential part of the Scripps experience, thanks to students' vision and hard work.
"What a difference it's made to the community," Smith says, "and it was the students who brought that to life."