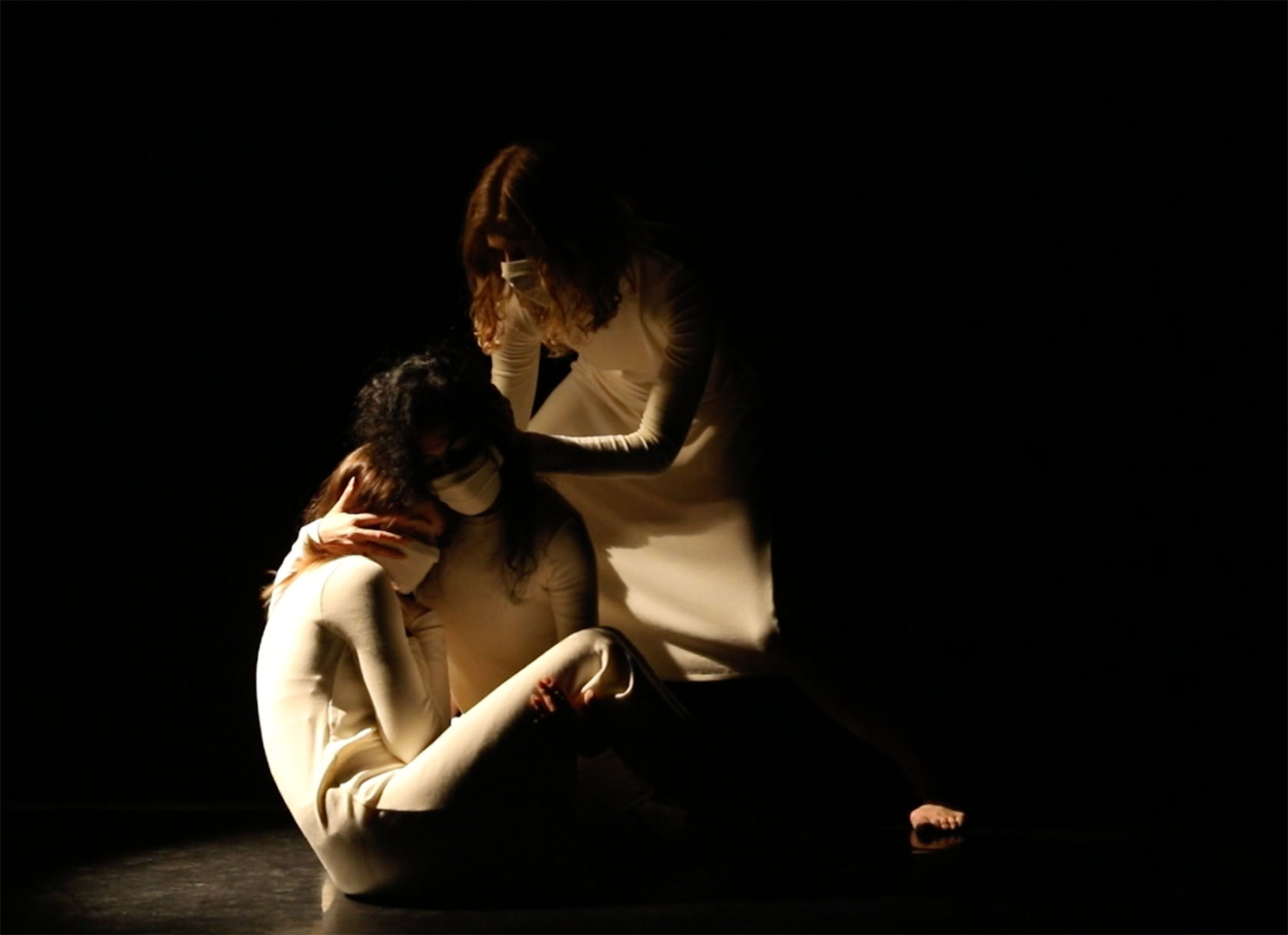 The annual senior art exhibition is the capstone of the Scripps College studio art major. Seniors create original works of art, conceptualize an exhibition, install their pieces, draft artist statements and wall texts, and publicize the event as part of their senior theses.
Traditionally, the senior art capstone exhibition is displayed at the Ruth Chandler Williamson Gallery, but the Scripps College campus closure has led to ingenious solutions for displaying art. Last year, the Class of 2020 seniors hosted a virtual exhibition. And this year's media studies and art seniors are turning to the outdoors.
"We believe that some of the most elemental characteristics of effective artists and scholars are that they are resourceful, are problem-solvers, can improvise, and value and support their communities through collaboration and knowledge sharing," write Associate Professor of Art Kasper Kovitz, Assistant Professor of Art and Design Aly Ogasian, and Professor of Art Kim-Trang Tran in a joint statement about the exhibition. "Our seniors have again demonstrated these traits even under extremely difficult circumstances."
In partnership with Womxn in Windows, an LA-area collective that describes itself as "a platform for the perspective of womxn on culture, identity, and society," Scripps faculty and art and media studies seniors have created an alternative art viewing experience, called Abstract Media. Their work will occupy the windows of multiple storefronts along Chinatown's historic Chung King Road, viewable 24-7, from May 8 to May 15, 2021. Chung King Road is home to a group of LA galleries, both commercial and nonprofit, as well as artists' spaces. "The show is an opportunity to position the students' work within the larger Los Angeles art scene and to reach an audience that extends beyond The Claremont Colleges campuses," the faculty say in their statement.
"I am really excited about the opportunity to exhibit with Womxn in Windows and the idea of exhibiting work in general as that is something I have never done before," says Sophia Davirro '21, an art and media studies dual major, whose animated piece will be displayed as part of Abstract Media. "With so many senior traditions being put on hold, it feels really special to have some sort of celebration and representation of our work that exists in a physical space."
The works of Abstract Media all address culture, society, and identity from multiple perspectives and through diverse media. Topics include immigration, disability, and healthcare; Algeria in the French imagination; the atomization of pop music and its political ramifications in bedroom pop and hyperpop; Afrofuturism; dance and mourning; the legacy of Chinese refugees fleeing to Hong Kong in the 1970s; the toll of the pandemic on creativity; storytelling; examining retrofuturist utopia; queer identity; and environmental concerns.
The exhibition features new works by Natalie Bauer, Iishe Davis, Sophia Davirro, Julia Drooff, Lucy Ehrlich, Juliana Favela, Kiubon Kokko, Nejra Kravic, Sam McFadden, Blake Morton, Emmanuel Tuyishime, Augie Waaktaar-Savoy, and Shirley Zhong.
Reflecting on her own work and that of her classmates, Davirro says, "I am just really proud of the way the seniors were able to push through and find a way to continue making art in what can be an uninspiring environment, and I hope we all continue to make art for ourselves in whatever way we can after graduating," adding that she is grateful to the support of Professors Tran and Kovitz, who served as her capstone advisors.
[rev_slider alias="2021SeniorArtExhibition"]
Abstract Media is supported by the Scripps College Creating Community Fund and the Mary N. Freedman Fund for the Senior Art Exhibition, an endowed fund created by the Daniel X. and Mary N. Freedman Foundation to honor Mary N. Freedman's lifelong commitment to art and art education.